Love Big
Our ongoing campaign focuses on the most important aspect of our faith...love. Join us as we live out that love with ourselves, others, and God.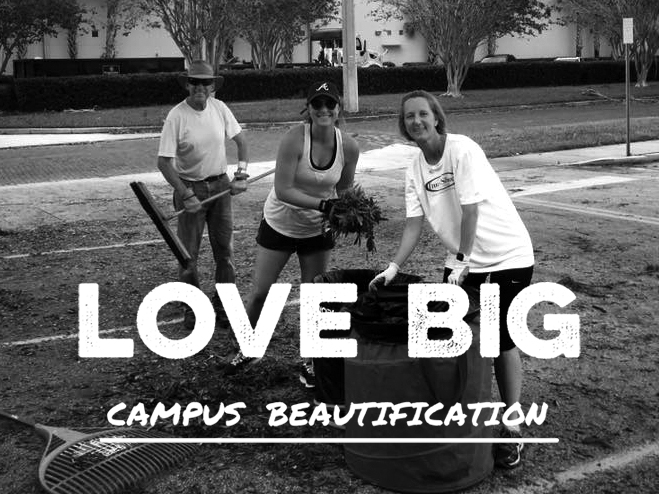 One of our main efforts with this campaign is campus beautification. We are asking for donations to fix and update several areas of our campus to make it more comfortable and safe for our community.  If you are not able to donate financially, we have workdays scheduled periodically that we would love for you to attend.
Over the past year, we have made some incredible improvements to our property thanks to your generosity.
Sanctuary HVAC replacement
Parking Lot Resurfacing
Parking Lot Trees
Courtyard Renovation
Upgrades to all LED lighting
New offices in Youth Building
Kitchen cleaning and overhaul
Fellowship Hall seating
CDC Playground Renovation
Cross lighting improvements
BALCONY SEATING UPDATES
A BIG goal of ours would be able to update the seating and the sound in the balcony portion of the sancutary.  Although this is an expensive goal, we know every little bit counts and together we can make this happen. We would appreciate any donations towards this project.
LANDSCAPING
We have come a long way but would love some large pots and planters around campus.  We also are looking for updates to our landscaping along Princeton and Edgewater.
CAMPUS PAINTING
After 75 years on this block and years of adding on buildings, we would like to give the whole exterior of the building a fresh coat of paint.
ANYTHING!
You are able to put your donation towards any campus beautification project that is the highest priority.